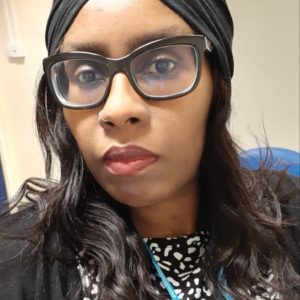 My name is Grace Roach I have been working for Merton Vision as an ECLO since October 2018 and I am based at Moorfields
Eye Clinic in St Georges.
I have sight loss and am CVI registered
I started working in this field as a volunteer for several charities and still volunteer for one.
I have the privilege of supporting and meeting people either at the start or at any point of their sight loss journey
My support can be emotional for example explaining what the consultant has said to a patient can sometimes be overwhelming
It can also be practical: I signpost to local agencies/charities, give information about eye conditions through support groups or one to one
I also visit the wards to meet those not yet registered with the clinic and am here for clinic patients in person and via phone or email.
Working as a Moorfields ECLO means so much to me