Hello!  Happy New Year!! I hope you had a fabulous break.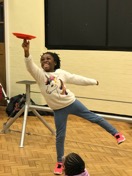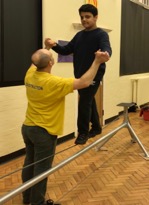 We kicked off the New Year in style with a double whammy of a free disco, complete with glittered faces, followed by circus skills full of juggling, tight rope walking and plate spinning. It really was one of the best times!
On Saturday 10th February at 1pm we have Lynn Cox coming to do some wire sculptures with us here at the Guardian Centre. Lynn is a visually impaired artist and well known by us at MertonVision. I cannot wait to have a go at making a wire sculpture with her! Check out her work on her website www.artscoachingtraining.com she is very talented!
Please let me know you are coming on 020 8540 5446 or 07590650124 or email me at lois.paddington@mertonvision.org.uk Contact me quickly to avoid missing out!!
Here are the dates for the year to put in your diary now…
March 10th – Jewellery Making
April 14th – Laser Tag
May 12th – Cycling Battersea Park
June 9th – Birdworld
July 14th – Historic Dockyard
September 8th – Kayaking
October 13th – Climbing
November 10th – Owls
December 8th – Christmas Disco
Some of these activities may change but this is the plan for the year so far!
As always, if you have any suggestions for future activities, please let me know and I will check out the possibilities.
See you soon!
Lois xxx