Rehabilitation Services
Merton Vision has a contract with London Borough of Merton Social Services to provide rehabilitation and mobility training for people with a visual impairment in Merton. The Rehabilitation Officer who is employed by Merton Vision carries out assessments and visual impairment registration on behalf of Social Services. Other specialist workers may also refer people to the Rehabilitation Officer if they feel that specific input is required.
The Rehabilitation Officer may offer general information, or practical advice regarding your sight loss. You may need help with aspects of confidence development, mobility, communication and daily living in and out of the home.  The Rehabilitation Officer may advise on equipment or services which are available to you. You may also be offered training, usually carried out on a one-to-one basis in the home environment, in the areas of reading and writing, getting around inside and outside, low vision and daily living skills.
Community Outreach Projects
One to One Support
For the past 11 years MertonVision have been able to provide a unique follow up service for all of our new clients.
From previous experience and feedback, we have discovered that initially it is hard to come to terms with sight loss and also difficult to absorb all of the information that has been given by the rehabilitation team.
Therefore we are able to provide a one to one support worker who will contact the client within six weeks of their first visit from the rehabilitation team. Initially the support worker will arrange for a home visit where they can chat to the client in a friendly and supportive manner and also establish the best ways to work with the client to help them go forward and come to terms with their sight loss.  The support worker may also accompany the client on one of their regular routes to help them regain their confidence, and also introduce them to services that are provided by MertonVision or other local organisations.
When the support worker feels confident that their client has been given the best possible support, they will arrange to contact the client within three months to establish how they are managing with their sight loss.  After this the client will be contacted on an annual basis to ensure that they have the best possible follow up service.
Would you like a volunteer to help you?
"Thank you so much for getting me the help (a MertonVision volunteer). It's given me so much more peace of mind. It's so much better than just sitting here worrying about going out…..Thank you"
Rita 82
Please see here to request a volunteer:
Most clients request our Home visiting Service. Clients requesting a volunteer are first visited by the volunteer co-ordinator to assess what assistance is wanted or needed. This can range from:-
Companionship, to break the cycle of isolation, anxiety & depression.
Reducing stress by reading personal correspondence, help with paying bills, online  shopping/banking.
Restoring confidence by escorting out on shopping trips to local stores.
Increasing enjoyment, social interaction and well-being by escorting out on local walks, visits to places of interest.
You can make a request for a volunteer by contacting Carmel Sammons our  Volunteer Co-ordinator. She will visit you to discuss your needs.
As soon as a suitably matched volunteer becomes available you will be introduced at a mutually convenient time.
Outside Social Group
A friendly group who meet up for lunch once a week throughout the borough.
Awareness Training in GP's practices
Invaluable for medical practice staff.
With the use of simulation specs and other resources we can offer your staff an insight into sight loss and how to improve the service that they offer their clients who live with a visual impairment. Sessions are tailored for each practice and generally last for between 60-90 minutes.
To arrange your training session please contact
The Office T: 020 8540 5446
Email: info@mertonvision.org.uk
Presentations
We are happy to come along to events that are held within the community to talk about MertonVision and the excellent service that we provide for people who reside in the London borough of Merton and are living with sight loss.  We also demonstrate some of the resources that can be obtained through MertonVision.
Habilitation Services
Merton Vision also have a contract with London Borough of Merton Social Services Children's Division and Special Educational Needs Team to provide mobility and independence training for children in the borough who have a visual impairment. We also carry out vision Accessible Audits within schools to ensure Merton Schools are accessible for children with a visual impairment.
Transcription Service
MertonVision is able to offer a Transcription Service.  We braille from print, provide audio formats or enlarge the font size to your requirements. We offer a quick turnaround, especially if your requirements are sent electronically.  For more details and costs contact Wendy on 02085405446
Accessible IT Training and Support
Learn how to use an IPad, Tablet or smart phone. Alternatively, learn to use an accessible computer or learn how to make your computer accessible.  We have a dedicated accessible IT Suite with software designed specifically for people with a visual impairment.
We can offer Training or problem solving issues either in our IT Suite or we can come to you in your home. We can provide assistance with using a phone, sending a text message or email. Help you with shopping on line such as ordering you weekly food shopping from your tablet Our Staff and Volunteers have been trained in accessible technology to assist you with the ever increasing availability of technology available to visually impaired people. If you have an IT problem or would like to join a weekly training course call Mark on 020 8540 5446.
Equipment and Resources Room
You can view and read a current description of hour equipment on line by visiting our Resource page… If you want to order anything or find out more about the equipment please contact the office on 020 8540 5446.
Alternatively, we have a large well stocked resource centre at the Guardian Centre which offers you the opportunity to look at and try out some of the equipment which you may find useful. Equipment is available to buy. There are also some items which are available on short and long term loan so that you are able to try out more expensive items in your own home before you decide to buy.
If you would like to come in and have a look around, or are interested in a particular piece of equipment, please phone MertonVision for an appointment.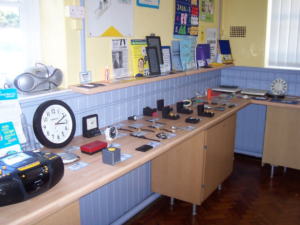 These are examples of just some of the amazing array of equipment we have!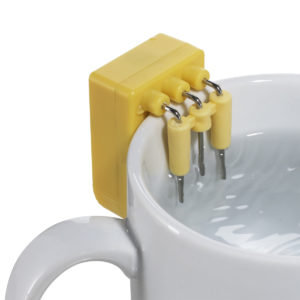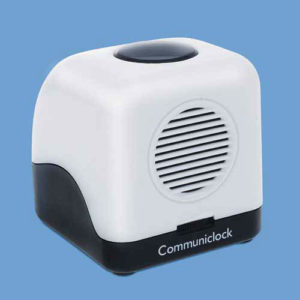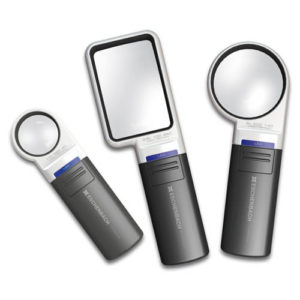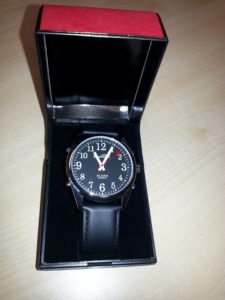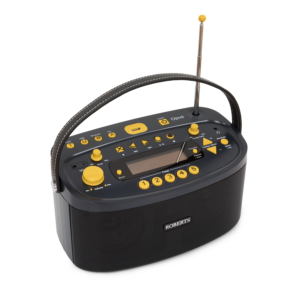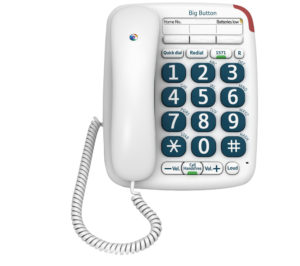 Falls Prevention Class
Up to one in seven older people have poor sight.
People with a visual impairment are at risk of falls, because of their poor sight, in addition to any age related mobility problems they may have.
People with a visual impairment are generally less fit than their contemporaries because their poor sight makes it more difficult to use mainstream fitness venues or activities. It is difficult to go jogging with poor sight, or even to take a leisurely stroll in the park!
Exercise classes for people with a visual impairment need to be geared towards their needs- a more hands on approach is required than for sighted people. Instructions sometimes need to be shown on a one to one basis if the student cannot see the exercise being shown. For this reason it is more practical to allow for smaller classes. We aim for a membership of 5-10 people.
The Falls Prevention Exercise Class has been running successfully since April 2002. It has proved to be invaluable to our elderly users who previously may have had little or no exercise and because of their combined visual loss and frailty was at greater risk of falls.
The exercise programme is structured to increase fitness and strength over a period of time. We consider it important that this level of fitness is maintained with continued maintenance classes, so that the benefits are not lost. If you are interested in attending the class or would like more information please contact the office on 020 8540 5446.
Telephone supporter/befriender service
We are very happy to be able to offer this service at MertonVision.
The process involves a volunteer phoning one or more clients on a regular basis eg once a week or once a fortnight.
They will ask how you are and if you are experiencing any difficulties or problems and if there has been a change in your circumstances which we may be able to help with. This help could include allocating a home visitor to do weekly shopping, to deal with correspondence, applications for benefits or referrals to another service. They could also help you with a new hobby or class or event which you might like to attend. This is a similar service to that which staff has been offering but this service will be initiated at a clients' request.
And we have great news – we now have more new volunteers who have subscribed to help with our telephone befriending service.
If you would like someone to phone you on a regular basis for a friendly chat or to just get something off your mind then do let us know.
Counselling service for vision impaired people
Are you feeling anxious and have you lost confidence?
Sight loss can be a shock and turn your world upside down. Even if you normally cope well with your life and are an independent person, this may be a time when counselling could help you. We have recently worked closely with Merton IAPT to provide Counselling Services here in Emily Villa at the Guardian Centre. Merton IAPT offered a wide range of Counselling Therapy, in familiar surroundings. Alternatively MertonVision have close links with Wimbledon Guild who have their own Counselling Services and MertonVision have provided both Agencies with VI Awareness training.
If you would like to come and have a chat and find out more about these services , please call our Office at MertonVision on 020 8540 5446:
Our Newsletter
Every two months we produce The Guardian Gazette, which is a brilliant way for you to keep up to date with all our news, views and events!