Interested in volunteering?
VOLUNTEER FOR US!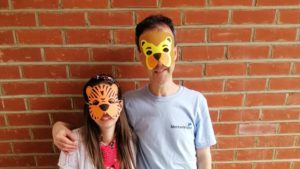 MertonVision could not operate as effectively as it does without the help of much valued volunteers.
There are many areas in which you can help:
Home visits
Service users requesting a volunteer are visited by the volunteer co-ordinator to ascertain what type of assistance is wanted or needed. This ranges from:-
Purely companionship, to break the cycle of isolation, anxiety & depression.
Reading personal correspondence, help with paying bills, online shopping/banking
Escorting out on shopping trips to local stores.
Escorting out on local walks, visits to places of interest.
Centre Helpers
Lunch Club
Assisting the Chef, helping to prepare food, peeling chopping etc.
Setting tables, table cloths, serviettes, cutlery.
Serving food and drinks.
Clearing away, washing up,
Falls Prevention
Assisting qualified instructor to facilitate exercise moves with clients.
Safeguarding clients using exercise equipment.
Setting up and putting away equipment.
Coffee Morning
Meeting & greeting service users as they arrive.
Making Teas/coffees and serving up biscuits.
Chatting /conversing with service users.
Washing up afterwards.
Art & Crafts
Assisting qualified Tutor to fetch and distribute equipment.
Keeping clients folders in order
Washing and putting away equipment.
Occasional/ Social Events
One –off visits escorting people to Hospital appointments, shopping trips for specific items, helping people fill in forms online.
One to one escorts on Day trips by mini bus to various locations.
Helping to organise & run Social and Fundraising Events.
One of our long-standing volunteers explains why he personally enjoys volunteering for MertonVision.
A volunteer's perspective
By Rey Augustin
I have been helping out at MertonVision for several years now, and thought it might be useful to share a little bit about myself and my experience of volunteering.
In the 1960s I came over from Mauritius to live in the UK.  I originally settled in Somerset, before moving to London.  For 36 years I worked at the Institute of Education, which is part of the University of London.  I began as an attendant in the Library, before becoming a library assistant, and finally a senior library assistant.  My main responsibilities were acquisitions, finance, administrative tasks, and working at the library's public desks.
After retiring I spent 6 months thinking about what to do next.  In 2006, I was referred to MertonVision by the Job Centre in Mitcham who mentioned that they needed volunteers.  I haven't looked back!  I volunteer on Fridays, and my tasks include answering incoming telephone calls, typing up the minutes of meetings, filing, stocktaking the magnifiers, and preparing envelopes for the MertonVision Newsletter.  I have found working at MertonVision to be extremely enjoyable and fulfilling.  The team is so friendly and supportive.  I also find it very rewarding to work for a charity providing such a valuable service to the local community.
In June 2019 I was lucky enough to receive an Annual Merton Partnership Volunteer Award.  I attended the celebrations with my granddaughter and it was a memorable evening for us both.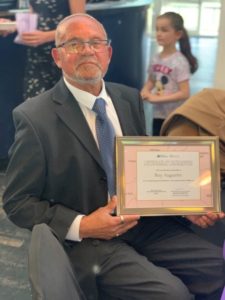 Other Opportunities Include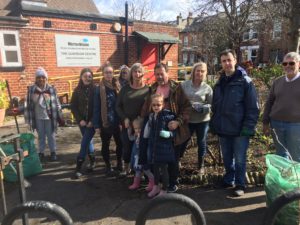 Driving, Gardening, assisting staff with office skills, and Fundraising.
We give a strong commitment to our volunteers endeavouring to use their abilities in the most effective way possible. MertonVision take seriously the time & commitment the volunteers give to the areas they are working within. MertonVision have procedures set up to ensure there is opportunity for feedback, discussion, support, and involvement from the volunteers.
All volunteers are interviewed; DBS checked and asked to provide the names & addresses of two referees. All volunteers are given awareness & sighted guiding training and receive a certificate.
Volunteers are routinely rewarded for 100 hours service, and yearly service, with a voucher scheme. Every year MertonVision organise a big "Thank You Party" for all our volunteers.
Our last very successful party was held on 3rd August. This year's party was organised by a wonderful team from NCS The Challenge. Volunteers were presented with certificates by Chairman of the Trustees, Harry Cowd. This was followed by a quiz, piano playing a photo booth and lunch.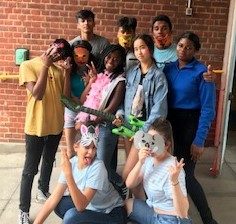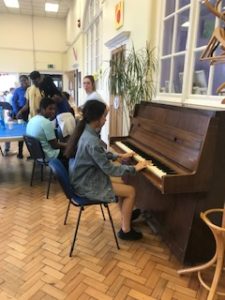 *POSITION FILLED* Wanted: A brilliant volunteer to look after our social media!
We are seeking a motivated, collaborative individual to join our team to take responsibility for our social media activities:
Are you creative?
Would you like to utilise your social media and communication skills?
Would you like to gain volunteer training and experience in using and developing your portfolio of transferable skills?
Do you welcome an opportunity to be part of a voluntary organisation working with and for the visually impaired community?
If the answer is yes you may be just who we're looking for!
MertonVision is a local charity providing both professional and volunteer services to people with a visual impairment in Merton. We are a successful, highly regarded, sight-loss charity offering much needed support to visually impaired children and adults living in Merton.
We are now in a position to expand and improve our social media platforms to help promote our services and to increase the public face of the organisation.
This role is flexible and can either be home or office based.
You will:
Plan and create engaging social media content
Ensure our Facebook, Twitter, Instagram and Linked-in content is relevant, up-to-date and accessible
Work with the Service Manager to create and implement our social media strategy
Be prepared to use your knowledge and skills to increase our online presence through a variety of social media platforms
Duties:
Create, upload and manage high quality content across all social media channels
Provide our social media communities with effective support through these platforms by moderating and responding to comments and feed-back in a timely and professional manner
Create and deliver high quality engaging, audience focused content based on specific and wider organisational aims and objectives in collaboration with the Service Manager
Monitor and evaluate content and plans in collaboration with the Service Manager
Contribute to the ongoing monitoring of our online communication platforms and consider new ways of evaluating the impact on our community
Work with staff and volunteers to initiate an increased online presence within the organisation and wider community
Work with the Service Manager to ensure our Social Media policy and procedures are kept up-to-date and communicated effectively
Undertake any relevant training and other duties as required
Required experience:
Knowledge of social media, digital literacy and IT skills
Experience of creating interesting and relevant digital content
Ability to translate information into accessible and appropriate content for social media audiences
An understanding of the social media community, terminology, trends and arising issues
Ability to think creatively about specific organisational requirements and develop platforms accordingly
Experience of working within a voluntary sector organisation or an interest in developing skills in this sector
Ability to work as part of a team
Commitment to equality of opportunities for all service users, audiences, volunteers and staff
We have many volunteer vacancies within the organisation, if this vacancy doesn't match your expertise we may have something that does.
If you have any questions please just ask info@mertonvision.org.uk Tel: 020 8540 5446