Interested in volunteering?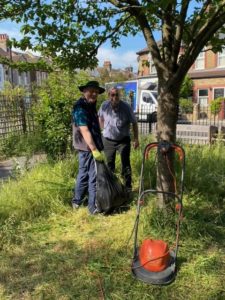 Photo of our brilliant gardening volunteers making a great job of clearing the front garden at the Guardian Centre!
Volunteer for Merton Vision and make a difference to the quality of life for our blind and or partially sighted clients. We have various opportunities for you to develop your skills, knowledge and gain invaluable experience and connect with others.
Benefits of volunteering for MertonVision:
Sense of personal satisfaction, achievement and fulfilment
Support the local community of Merton
Enhance your CV or UCAS application
Enjoy the feeling of making a difference to someone's life
Yearly Thank You Party and much more!
Read about the experience of one of our volunteers.
Volunteering roles that we currently have
For further information, please call us on 020 8540 5446, email volunteering@mertonvision.org.uk