MertonVision at the Wimbledon Championships!
MertonVision were very lucky this year to be offered the amazing opportunity to send 8 of our VI clients to work at the AELTC Wimbledon Championships.
Staff worked very closely with the Wimbledon Foundation, the charitable arm of the Championships, to interview and train our lucky team.
3 Clients worked as Wimbledon Foundation Championships Assistants, 2 as Retail assistants, 1 in Customer services, 1 in Office admin and one in Gardening. This is what they had to say about the experience:
NATHAN
….. What an opportunity. That's what I call "Hope awakening". Let's see if we can carry the tennis spirit throughout the year to come at MertonVision.…..An amazing journey and achievement for me.
RYAN
Been working in general reception it's very fun. 100% wanna come back next year.
BILLY
……. my second shift went really well. And what a lovely day it was what fun we are all having.
Another client said: What an amazing enjoyable shift and a great experience! Was really nice to chat with and talk to so many different people…. I really enjoyed my shift and I'm really enjoying the job…..will be sad to leave and will miss the job.
Hannah
….was a really fun 2 weeks so a big thank you to MertonVision. I worked as a retail assistant in one of the AELTC shops, helping to replenish the stock, aid customers and work the tills.
I would absolutely recommend working at Wimbledon to anyone considering it. It has been an incredible experience that has taught me many new skills. As an employee you are highly valued and supported by your management meaning that adjustments can be made for anyone with a disability who is looking to apply.
Personally I've had a brilliant 2 weeks and would love to do it all again next year!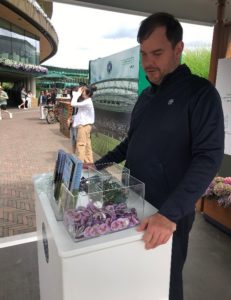 Billy, WF champions assistant
Nathan, WF Champions assistant with replica Gentlemans' Singles Trophy standing in front of Centre Court backdrop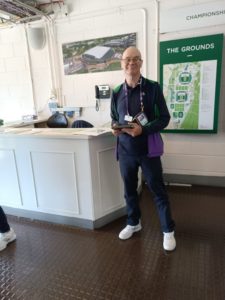 Alan in Customer Services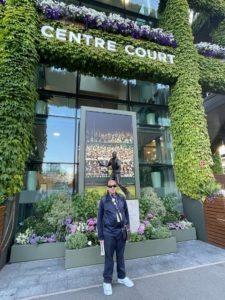 Another WF champions assistant, posing in front of the Fred Perry Statue